Natasa Brouwer en Peter Dekker
Bij hun onderwijsinnovatie maken ze gebruik van TPACK
Bij ontwerp onderwijs wordt verder met assenstelsel: verticale as: student voert regie, docent faciliteert tegenover docent voert regie, student voert uit en de horizontaal as analytische ordening tegenover integratieve ordening.
Ze hebben boek geschreven: eLearning kookboek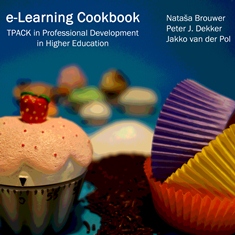 Het e-Learning Cookbook – TPACK in Professional Development in Higher Education is een boek dat gebaseerd is op de lessen die de deelnemers aan het MARCHet project geleerd hebben en gaat in op de ervaringen bij het implementeren van TPACK bij verschillende organisaties. Het boek bevat instructies, richtlijnen, tips en ideeën over hoe docenten in het onderwijs ondersteund kunnen worden bij het professionaliseren van zichzelf op het gebied van het (her-)ontwerpen van onderwijs met behulp van TPACK.
De tips zijn niet altijd moeilijk, soms denk je "ja, dat is nogal logisch", maar vaak zijn het simpelweg ervaringen van mensen die er mee aan de slag zijn gegaan en daarmee waardevol om mee te nemen als je er zelf mee aan de slag wilt.
De elektronische versie van het kookboek is gratis te downloaden (en beschikbaar met een Creative Commons – naamsvermelding licentie – dus je mag ook delen hergebruiken / aanpassen etc. zolang je maar aan bronvermelding doet) via de UvA website.
Tips vanuit de zaal om het professionaliseren van docenten te verbeteren:
1) laat docenten hun eigen casus/uitdagingen/problemen inbrengen
2) ben helder over de doelgroep
3) timing
4) werving
5) doel helder
6) toetsing
7) support
8) out of the box denken
9) Teaching as you preach
10) benut de studenten.
De dimensies/recepten/ingerienten zoals zij die in het boek beschreven ... Zie het boek!